The perks of subscribing.
Get products regularly refilled, without ever needing to lift a finger.

We'll automatically send out fresh products, right before you reach the last drop.
We're talking 15% off all our products.
You're getting top-ups sent regularly, so we don't want you to worry about extra costs.

Change delivery times, skip if you're up to date, and cancel whenever you like.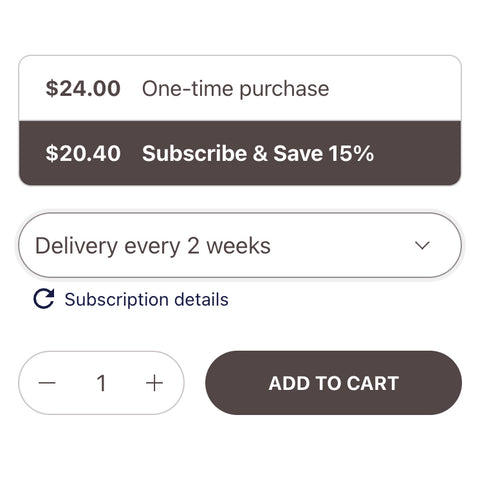 Supplements this month, suppositories next month  — body washes always. We know your routine changes as your body does, so feel free to update as you go.
Pick when we ship — we'll deliver as little or often as you like. You can also edit or skip orders at any time.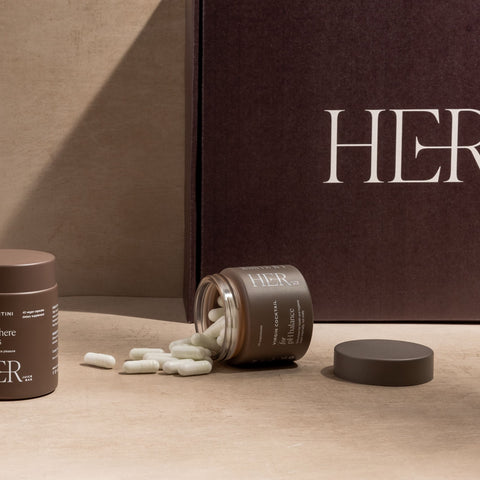 Subscribe and get 15% off every order. You'll also get to save on shipping for orders $60+. We love to spoil you.
How does the subscription work?
It's super simple. Click on the products you'd like to regularly receive, then choose the 'Subscribe' option before adding to cart. 
You'll then get to select how often you'd like to receive your products. Done? Hit that checkout button and voila! We're on our way to you.
We never want you to feel stuck — in jobs, situationships, and especially not subscriptions. So yes, you can swap, remove or add products whenever you like. You can also skip your delivery at any time to suit your schedule and your skin needs.
Are there any perks to subscribing?
You'll save 15% on every order, plus free shipping on orders over $60.
You'll also get rewards points with every purchase and order renewal. Points can be redeemed for discounts on certain one-time purchases and certain subscription products.
What if a particular product is out of stock?
Don't stress if you see that "out of stock" sticker. We set aside enough products each month, especially for our subscribers, so you never have to worry about your faves going out of stock. It's that VIP treatment you deserve.
Do I get more Her Juice Bar Rewards if I subscribe?
Good question — and yes! When you make six subscription purchases or complete six subscription renewals, you'll earn 100 bonus points and be even closer to redeeming your next reward.
Can I edit or cancel my subscription anytime?
We'll be sad to see you go, but yes you can. Simply log into your account and click Manage Subscriptions to make changes to delivery frequency or cancel.
When will I be charged for my subscription?
Depends on how often we send products out to you. But basically, you'll be charged when you first order, and then every time you receive a new order. 
Remember: you can update your order frequency — aka your next charge date — at any time. In case you're going through your products faster or slower than you first anticipated.
How do I change where my subscription gets shipped to?
Moving house? We'll happily follow you anywhere. You can update your delivery address by logging into your account and clicking on the Manage Subscriptions tab. 
Just click "Edit Shipping Address" to get us shipped to the right place — and show off your new postcode. 
Can I change the delivery date of my subscription?
Absolutely. Our subscriptions are smart like that. After logging into your account, select the Manage Subscriptions tab. Then,  click on the "Manage" button next to the product you wish to edit. From here, you can change the order date, or you can even skip an upcoming order if you've still got a lot of product to get through.
How do I change my billing information for my subscription?
New bank details, who dis. It's easy to update your billing information on existing subscriptions. Log in to your account, go to Manage Subscriptions and select the "Update Billing" button. To keep things nice and secure, we'll send you an email to safely update your billing information. 
Have more questions about billing? We're here to help. Send us an email.
Will I get free shipping on my subscription order?
It's likely! Subscription orders will be shipped with Standard Shipping, which is a flat rate of $7 on each renewal. But Free Shipping is an option for subscription orders over $60. 
If you have multiple subscription products and want them to ship together to receive the Free Shipping rate, make sure the products have the same upcoming order dates and are combined under one address and payment method. 
If you want to add products to your subscription to reach the $60 Free Shipping minimum (smart idea), we recommend adding products to upcoming subscription orders through the customer portal versus purchasing a new subscription order altogether. You can even add one-time purchases to your order through the customer portal. But please note, Free Shipping is determined by the subtotal of the products after the 15% discount has been applied.
Need help? Email us and we'll happily step you through this process and make sure you get the free shipping you deserve.
How do I apply points/rewards to my upcoming subscription order?
As our loyal community knows, if you have an existing subscription as well as points piling up, you can apply them to upcoming subscription orders and redeem extra rewards.
Sign into your account and go to the Manage Subscriptions tab. Your points balance is displayed with the option to "Redeem" a reward if you have enough points. Select the reward you want to redeem. It will ask "Are you sure?" — of course you are! When you select "yes," your points are immediately deducted and a code is displayed. Copy the code and paste it under the "Apply My Rewards" link next to the desired subscription. Then hit save. 
Once saved, the page will refresh and you'll see the code has been added. It will automatically apply on the date the subscription renews.
You can also find redemption codes on the Rewards page in the section on "Using Points on Existing Subscriptions". Copy the code from here, make your way back to the Manage Subscriptions tab within your account, then paste it under the "Apply My Rewards" link to redeem. 
As always, email us if you have any questions or need help redeeming your points.
Can Shop Pay or Shop Pay Installments be used on subscriptions?
We like to keep your options open. So yes, Shop Pay can be used as the payment method for your subscriptions. 
However, Shop Pay Installments aren't able to be applied towards subscription purchases.